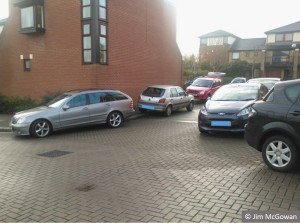 Following issues raised by CMK Town Council, Milton Keynes Council conducted a consultation over the summer on whether to introduce a residents' parking permit scheme in Campbell Park.  Local residents had complained to the Town Council about commuters parking down both sides of Adelphi Street, as well as on streets to the south of Campbell Park, particularly Columbia Place. This has blocked roads, potentially restricting emergency vehicle access. (We've highlighted these issues in previous articles and newsletters.)
The results of the survey are below, showing how residents responded across the residential streets in Campbell Park:

As the table shows, the residents of Dalgin Place were strongly in favour, with 100% responding 'yes'. On the other side of the park, the residents of Adelphi Street also wanted a residents' permit scheme, with 94% in favour.
By contrast, Campbell Heights residents, living in Enterprise Lane, Highbury Lane and Huntley Crescent, were against introducing the scheme in their area.
The Town Council has taken these results on board and will be working with Milton Keynes Council to determine the best course of action going forward for each of the areas.
http://cmktowncouncil.gov.uk/wp-content/uploads/2014/10/Campbell-Park-parking-2-e1412771467959.jpg
1086
1460
http://cmktowncouncil.gov.uk/wp-content/uploads/2014/07/CMKTC-Logo1.png
2014-10-06 12:36:15
2014-11-10 13:10:00
Campbell Park Parking Consultation Results