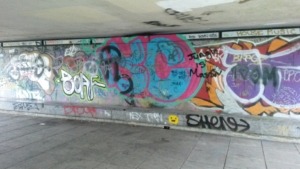 There are many issues affecting residents which the Town Council does not have responsibility for. In many cases the best first step is to report them to Milton Keynes Council using their "Report it" system.
Various issues can be reported through the highways reporting system. These include graffiti, rubbish, overhanging trees, abandoned cars, damaged structures and street furniature, pot holes, obstructions and signage issues.
To report an issue, create an account on the Milton Keynes MyCouncil system by going to mycouncil.milton-keynes.gov.uk. When you report an issue you will be given a reference number. You can then use this to write into or call the Council to follow up on the progress in dealing with the issue.
The Parish Council is happy to help residents in dealing with issues but recommends that residents start by contacting Milton Keynes Council directly to get issues such as these resolved, as in many cases reporting through the online system can quickly fix an immediate problem.