Join in the Autumn CMK Spring Clean!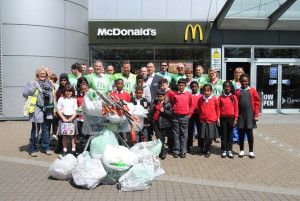 Anyone who lives or works in CMK is invited to take part in the 'Love Where You Live' Spring Clean, taking place on Thursday 17 September. Activities will include litter picking and repainting street furniture, such as benches and bollards. This is one of two Spring Cleans remaining this year, following on from a series earlier in the year in which over 250 volunteers helped keep the streets of CMK clean and tidy.
The group will meet at the McDonalds Xscape branch, ready to leave at 12pm. Drinks will be served at McDonalds just before 2pm. All equipment and first aid supplies will be provided on the day and a thorough risk assessment will be carried out in advance.
This event is being organised by Milton Keynes City Centre Management (MKCCM) in collaboration with McDonalds, Serco and Milton Keynes Council. If you would like to take part, please email MKCCM at info@mkccm.org.