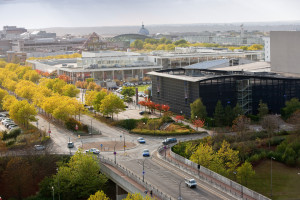 While CMK is known for its large retail centres and business areas, it is also home to a growing resident population spread across the parish. The residential areas are spread across the parish and vary from individual private housing through to large apartment blocks and flats.
History & Design
CMK is a young city centre by most standards, with the first building (Lloyds Court) having been built in 1976. It is designed on a grid layout centred around three main boulevards, Silbury, Midsummer and Avebury, which run from west to east. Crossing these are the vertical 'Gates', which link CMK into the surrounding city. Silbury and Avebury Boulevards continue across to form the edges of Campbell Park, separating the park itself from the development land down either side.
CMK is home to a range of facilities and attractions, ranging from the famous shopping centres and Xscape through to the hidden gems like MK Gallery, the Centrecom community centre and Arts Central. For more information on some of the organisations and societies in CMK, please see the Local Groups page.
Boat Trips on the canal
The electric canal boat 'Electra' was launched in 2021 by the Bedford & MK Waterways Trust. The boat has proven popular with residents and visitors during 2021, and trips are being scheduled for 2022 from its mooring at Campbell Wharf.
Residents of CMK (MK9 postcode) can receive a 10% discount on trips. Simply contact the town council at: clerk@cmktowncouncil.gov.uk for the Discount Code before booking.
Parks & Open Space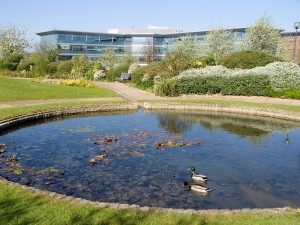 There are also a number of parks and open spaces around CMK. The largest and most famous of these is Campbell Park, named after one of the city's forefathers, Lord Campbell. The park is home to a viewpoint offering vistas stretching across to Bedfordshire, an open air theatre, an events plateau, a cricket green and even hosts grazing sheep during the summer.
Elsewhere in CMK, you can find peace and relaxation in the Fred Roche Gardens, located between Upper Fifth and Seventh Streets, and in Grafton Park, located behind the Jaipur restaurant near the railway station.
Reporting 'e-scooter' misuse
Any CMK resident who wishes to report 'misuse' of an 'official' e-scooter should email the authorised e-scooter operator:
Lime- miltonkeynes@li.me
Ginger – info@ginger.town
Spin- support@spin.pm
MISUSE INCLUDES:-
Causing an accident or dangerous riding
Riding on a footpath next to any building, rather than as a motor vehicle should, on a road, boulevard or parking access road
E-scooters are fine on a redway, connecting bridge or underpass, however
Two persons riding on one scooter
Drinking alcohol while riding
INFORMATION REQUIRED:-
The e-scooter operator, or ID numbers/ letters
Time
Location
Description of rider
The irregularity observed
Using this information the operators can identify a rider and take appropriate action