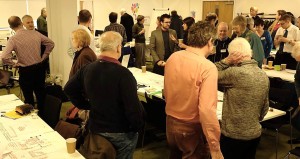 Scores of people from all walks of life recently played their part in an intensive workshop planning for future development in key parts of the city centre.
Around 80 people, including members of the public, the business community, Milton Keynes Council, parish councillors, and grassroots campaign groups met together for the first time to discuss Midsummer Boulevard East and surrounding areas; the important 1km stretch through the main shopping district between Midsummer Place and Campbell Park.
The aim of the workshop was to come up with ideas to make this part of the city centre a more appealing place for residents, shoppers and visitors, both day and night, and to improve connections between central facilities and attractions.
The three day workshop was jointly organised by Milton Keynes Council and Central Milton Keynes Town Council.
Cllr David Hopkins, the Cabinet Member responsible for Strategic Planning, said:
"This workshop has given us some very firm foundations from which we can explore ways to modernise and revitalise a significant part of our city centre.
"There was a high degree of consensus on the way forward, with some very ambitious yet attainable ideas to enhance the shopping and travelling environment and experience for people visiting this area and Milton Keynes, be they local or from further afield."
Milton Keynes Council Chief Executive David Hill added: "I was pleased to be able to attend the whole workshop. It was a very creative and invigorating debate. While the workshop's title focused on Midsummer Boulevard East, we also looked broadly at how we can improve the connectivity and use of all the facilities and attractions in the city centre, and how well-targeted investment could really enhance the appeal of the whole area.
"There now will be a period of technical celebrex medicament interdit analysis, and consideration, and any draft planning documents produced will be subject to full formal consultation.
"It's the start of an interesting journey."
Dr Rebecca Kurth, Chair of CMK Town Council added: "I think we were all agreeably surprised how quickly the different parties in the room came up with similar wishes and priorities. As a result, we feel confident that this is a significant step towards giving developers more clarity on what people want, and creating a more inclusive, vibrant and attractive city centre for all."
Some of the main ideas to emerge from the workshop, which are all subject to further investigation and consultation, are:
Relocating buses from Lower Ninth St/ Midsummer Boulevard East, to an attractive new 'Passenger Transport Hub' adjacent to Secklow Gate.
 Making the Boulevard more pedestrian friendly
Adding new multi-storey car parks near shopping areas
Enhancing and improving Market Square
Providing safe and attractive 24-hour 'short cuts' through the main shopping area for pedestrians and cyclists.
Creating a variety of public spaces for activities and events to enliven the Boulevard
Planning for the introduction of a new tram or futuristic transport link to run the full length of the Boulevard from the train station to Campbell Park and beyond
Encouraging more variety in new developments, especially on the southern Food Centre side of  the boulevard
The next stage will be for the council, working in partnership with the CMK Town Council, to further refine and investigate the ideas put forward, with the aim buy augmentin canada of incorporating the results of this technical analysis into future planning documents which will be subject to full consultation in the usual way.
http://cmktowncouncil.gov.uk/wp-content/uploads/2014/07/Blue-bus-on-MSB1.jpg
1012
1441
Rebecca Kurth
http://cmktowncouncil.gov.uk/wp-content/uploads/2014/07/CMKTC-Logo1.png
Rebecca Kurth
2014-03-19 03:11:00
2014-09-07 23:54:57
Next Steps in Planning the Future of Central Milton Keynes