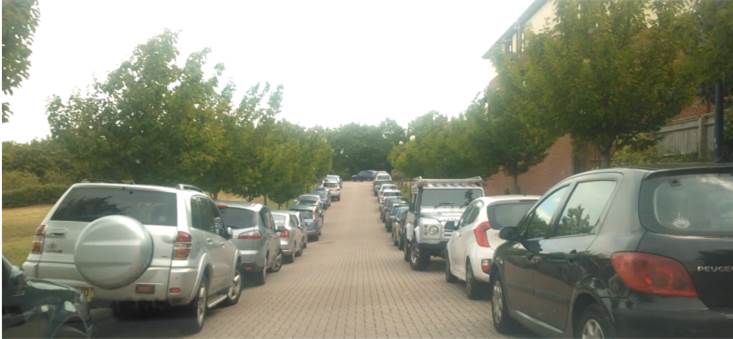 Residents of Adelphi Street have been frustrated by commuters parking in Campbell Park, especially since the end of free parking in CMK.  Recently, the problem has reached the point where residents cannot even get to their own homes!  Of particular concern is the main entry into the residential cul-de-sac where motorists have been effectively blocking the street by 'double parking'. This could lose precious time if the emergency services need to attend the area.
After residents asked CMK Town Council for help, Councillor Charles Ashbury volunteered to patrol the area early in the morning and encourage problem parkers to comply with the law. We have also set up temporary cones to discourage parking at the junction quadrants, which is dangerous as it reduces visibility for people using the footpath. After just a few days residents began to see improvements, and a reduction in near-misses where the footpath crosses the street.
"We will continue to press MK Council, as well as local employers, to find a long term solution to help residents," says Councillor Ashbury. "The next step is a petition to show public support for a proper solution, as well as yellow cones to highlight no-parking areas including the verges.  We are also pressing for better maintenance of overgrown vegetation, street lighting and clearer junction markings, to reduce speeding and keep the area safe and attractive for all."
Adelphi Street residents – look out for the petition coming soon!
http://cmktowncouncil.gov.uk/wp-content/uploads/2014/07/Adelphi-Street-Parking.jpg
339
733
Rebecca Kurth
http://cmktowncouncil.gov.uk/wp-content/uploads/2014/07/CMKTC-Logo1.png
Rebecca Kurth
2013-11-21 01:16:19
2014-07-21 02:00:37
Problems in the Park